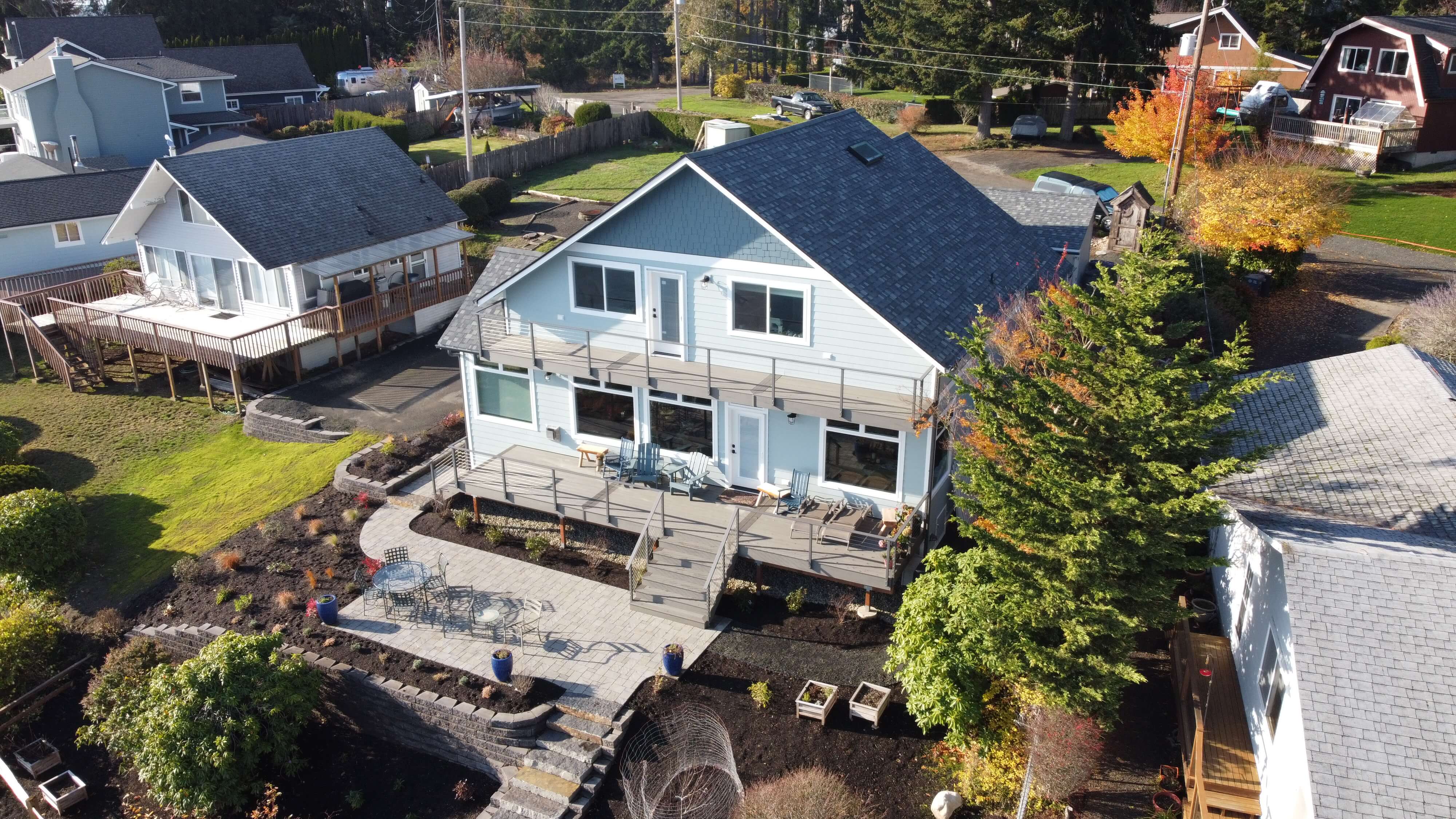 We believe a custom home is not the process of choosing from predetermined floor plans, materials and products. As a leading custom home builder, we believe the client's participation is the most important dynamic. The home must reflect the client's personality, lifestyle functionality and utilize the building site to optimum efficiency.  Here we introduce a custom home build in Grapeview.
Using the TN Miller Custom Homes' design/build method, we worked as a team with our partner architects to produce a project to maintain the client's design & structural intent, construction schedule and project budget thus ensuring a smooth, fun, enjoyable, building experience.
We now welcome you to this beautiful home build in Grapeview by showing the great room and its view toward the water. Next to it is a custom hemlock wood stain open stair system to the side of the new kitchen.
The new kitchen has so much to offer, including Hanstone Rocky Shore Counter Tops, Kemper Maritime Lower Cabinets and Kemper Alder Upper Glass Door Cabinets, and Open Shelf Peninsula Cabinet.
While we focusing on all the big picture items of this new custom home build, we also like to bring your attention to some finer details that can easily be overlooked. Working at home will be more organized with these Kemper Alder Built-in office cabinets.  And even the bathroom has cosmetic appeal with a Custom River Rock Tile Path.
We head back outside to show Custom steal cable railing, Timbertech composite decking, and widow walk upper deck. Our clients will enjoy their new home, whether inside or coming out sitting on the patio providing for spectacular views.
Our Grapeview clients now have a place for them to call home!
Think as freely as possible about your Custom Home Build and then partner with TN Miller to make those dreams a reality.