Kitchens are the heart of the home. Family gatherings, meals and simple breakfasts work more efficient when you have a well laid out kitchen designed around how you cook and live. Kitchens recoup 125% of their remodel cost. Updating your kitchen every 15 years retains the value of your home.
Gig Harbor Kitchen Renovation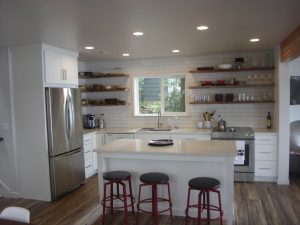 The client who purchased a saltwater beach retreat was going for a clean modern look while wanting to incorporate a touch of natural elements, such as exposed beams, exposed clear fir floating shelves and large plank LVT that gives off the impression of freshly scraped wood floors all combining with lots of white. White countertops, white cabinets, white paint, white backsplash along with pops of natural textures and vivid colors.
The goal for the remodel was to open up the walls and allow for all the outside light to pour in and to invite the views of the location to be enjoyed without the house or the decor interfering. The space was set in 3 defined areas of a dining room, kitchen, and living room. We opened up the 3 defined spaces in to one distinctive great room. We did this by rearranging the cabinets from a peninsula design to an island design. We also opened up a pass-through wall to a full open space by installing a larger support beam to carry the load of the second story load.
We used all LVT flooring products that are FloorScore™ certified for low VOC emissions, which means you can be assured of safer indoor air quality in the home. But Armstrong also takes LVT sustainability one step further by manufacturing these floors in an ISO 140001-certified facility.
The reward was being honored as 2017's REX award 'Excellence in Remodeling' for a residential kitchen under $30,000 and a fulfilling career making clients' visions come to life.
Kitchen remodel In Grapeview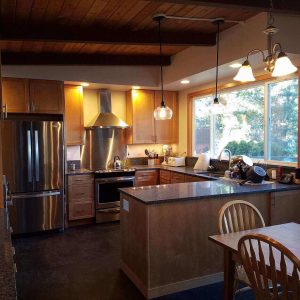 The client wanted to update a historical family beach house by tearing out the original kitchen and replacing with updated cabinets countertops and flooring while removing wood paneling and adding drywall. They also wanted to add additional cabinetry/wet bar along the existing dining room wall as well as replacing a window and sliding glass door. The kitchen was basically reset to the existing foot print plus and additional row of cabinets. We wanted to make sure the quality of cabinets would hold up during the non seasonal use of low heat. We also wanted to improve the existing lighting as the existing kitchen prep area was very dark.
The space was an existing open concept floor plan. It was already laid out well for an entertainment area for a summer home. The existing ceiling was a exposed beams with tongue and groove car decking. This made the lighting very limited so we built soffits to place lights in to provide the client with sufficient lighting in the kitchen prep area. We also had to move the existing electrical panel to make the new cabinet layout work.
We used Kemper solid wood cabinetry for better wear and tear. We also used a luxury vinyl plank flooring for long lasting wear on a beach front home. We improved the look of the existing kitchen by adding interior trim to help blend rough wall to ceiling connections. We also added new door and window casing to add some class to the kitchen area.
We are a very diverse firm specializing in Kitchen Remodeling, Bathroom Remodeling, Home Additions and Decks and Patios. Bring your ideas or house plans and we will start with our signature design process. Learn more about our Kitchen Remodel Signature Process. In addition to our many awards and community involvement is the many customer testimonials we love to share. We look forward to having you share your experiences with us too.