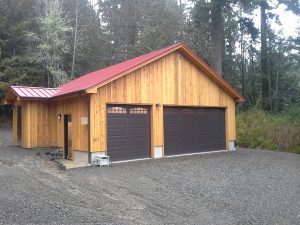 Garages are a necessity in the Pacific Northwest when arriving home on a rainy day and needing a dry place to unload. A garage adds value to a home.  In many cases adding a second garage is a great for additional storage and a workshop. Adding a second story to a garage is a great opportunity for an apartment or studio that could be used for additional family members or an airbnb.  Learn more about our Garage Signature Process.  
Garage In Allyn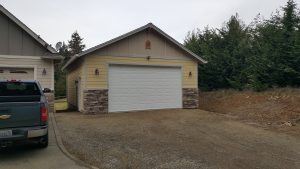 TN Miller Custom Homes constructed a garage for a client who needed space to store their ski boat and jet skies. The garage was also able to house the water well mechanics. The client wanted to compliment the log cabin style of their home. We took great care in the construction of the garage to ensure the cohesive look of the entire property. We implemented high standard craftsman quality techniques such as double sided, hand stained cedar siding that will prevent coupling of the siding due to harsh Pacific Northwest weather.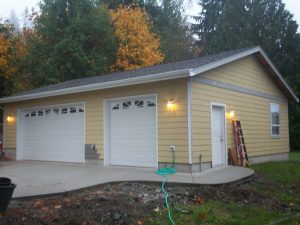 We are a very diverse firm specializing in Custom Home Building, Home Additions and Garages. Bring your ideas or house plans and we will start with our signature design process.