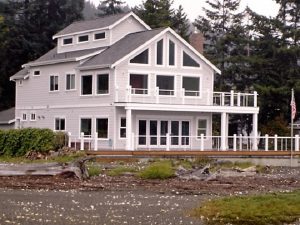 A whole or full house remodel is typically defined as making modifications to a kitchen, bath, as well as installing new finish products such as windows, doors, siding, roofing, trim work and flooring. It is common to upgrade all the mechanicals such as plumbing, HVAC and Electrical. In some cases a whole house remodel will include a room addition. A whole house remodel is the best choice when moving to a new house is not an option because of the location of the existing house. Maybe because the existing house is close to work and family activities or the most common reason is the house is located on beautiful acreage and/or overlooking a water way.
Whatever the size and scope of the project we have the knowledge, skills and craftsmanship to complete the project to our clients satisfaction.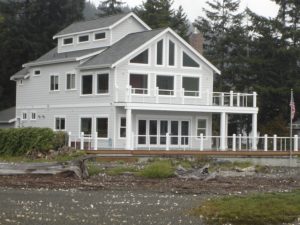 Belfair Whole House Remodel
The client wanted to transition a 1960 rambler into a spacious modern beach house thus increasing the living and sleeping space as well as the number of bathrooms in the home for family and friends.
The original house was small and dark and had limited views of the Hood Canal so the customer wanted ceiling height and lots of windows to allow natural light into the home as well as Hood Canal viewing points from all rooms of the house. They also wanted to be conscious of using Green building design and material whenever possible.
Early on in the design process the customer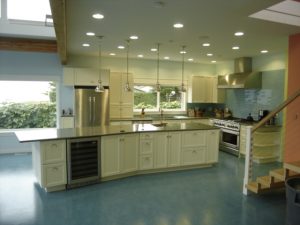 brought in pictures of several exterior pictures of Cape Cod style homes and many interior pictures of modern looking wood work and furniture styles. So we create a style defined as "Martha Vineyard meets IKEA". To achieve the "Martha Vineyard" affect we used a large window cupola, multiple roof lines, wide exterior trim, round gable end vents, and lap siding complimented with shingles. We also used a cable railing system to create a maritime feel on the exterior deck. On the interior we used multi color paint schemes, mixed natural wood with white wood, bead board wainscoting, used square suspended stairs, glass tile, and Marmoleum and cork flooring to achieve the "IKEA" affect. To help with the customer's vision to keep the house Green we introduced Green materials, used low energy and indirect lighting as well as tank-less water systems and low voltage HVAC. We were able to keep the power source to a 200 amp service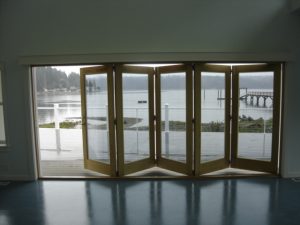 The whole house has a very open multipurpose room feel to it. The kitchen, dining, and great room act as one large room for entertaining. We added a 5 panel folding door to open the great room to a large outside deck to increase guest capacity and the open loft with a cat walk that can even provide more room for open conversations between guests. We added a Murphy Bed to the media room to provide extra bunk space. The master shower has multiple shower heads and body massagers as well as a sink, toilet, and bidet.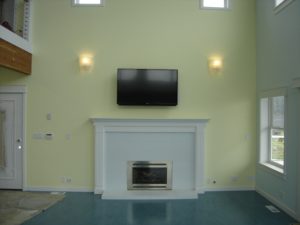 We have built a strong reputation as a trusted contractor serving Grapeview, Allyn, Belfair, Gig Harbor and Key Peninsula for quality craftsmanship.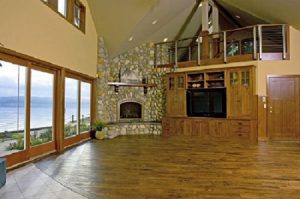 TN Miller Remodeling wants to work with you on all forms of Home Remodeling and New Custom Home Construction. Bring us your wish list and let TN Miller Remodeling use our knowledge, craftsmanship and experience to make your custom home or remodel come to life.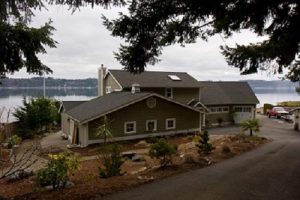 We are a very diverse firm specializing in Kitchen Remodeling, Bathroom Remodeling, Home Additions, and Garages. Bring your ideas or house plans and we will start with our signature design process.  Learn more about our Whole House Renovation Signature Process.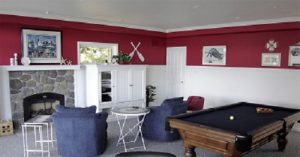 In addition to our many awards and community involvement is the many customer testimonials we love to share. We look forward to having you share your experiences with us too.